Post by ATePE Italia on May 28, 2016 6:19:15 GMT -6
ENTRY # 493582254
SML Court: the court-dormitory system in Abetenim, Ghana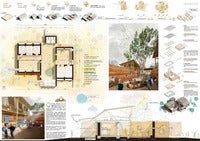 Design team: Michele Rossa (architect), Lionella Biancon (architect), Francesca Bonadiman (architect), Carlotta Fabbri (engineer), Caterina Pomponio (engineering student), Mariol Llupo (engineering student), Elisa Dainese (PhD architect), Stefano Pompei (civil engineer) and Marco Cardoni (civil engineer) - ATePE Italia, Italy
ABSTRACT
Drawing inspiration from the
traditional Ashanti
house the
SML Court
project aims to provide the students of the
Abetenim village
of Ghana with innovative and sustainable school dormitories.
Reinterpreting
local traditions
and merging them with
modern architectural principles
SML Court proposes the design of
completely functional and modular units
that can be duplicated according to funds availability and in order to increase the project's housing capacity.
The plan develops from the court-dormitory system that generates different degrees of
privacy
and
social inclusion
.
Key points of its design are the use of
low-cost materials
- as the rammed earth - able to ensure, among others, good thermal performances.
The result is a
sustainable architecture
where cost-efficient construction is fully integrated with the use of local materials and
low-tech building techniques
easily customizable and implementable by local unskilled workers.
DESIGN STATEMENT
SML Court
A Dormitory for Abetenim, Ghana
The project develops from the understanding of local conditions and techniques in the area around Abetenim, in Ghana, according to the following principles:
Tradition and Modernity
In order to design high quality dormitories and favor social inclusion we reinterpret local traditions and modern architecture.
As in the traditional Ashanti house our proposal develops from the definition of the communal courtyard and the tree contained in it. Under the shadow of the tree, symbol of life and knowledge in Ghanaian tradition, students meet and share their everyday experiences.
Dormitory units group together around the public space benefiting from its additional services such as modern restrooms and playgrounds.
Degrees of Privacy
From the large court students enter two smaller courts with dormitories, which house respectively 12 boys and 12 girls.
The system court-dormitory can be repeated and combined housing 384 pupils.
Courts of different dimensions – SML – offer different degrees of privacy: public spaces facilitate inclusion and socialization, while more private areas in each unit accord with more individual needs. In strategic points the wall separating units presents windows, which favor the dialogue and visual contact among areas.
Sustainability
We use the construction technique called rammed earth to build court walls and dormitories.
Walls thickness permits indoor thermal control, while the roof design and the section favor natural ventilation and wall cooling producing a sustainable architecture where cost-efficient construction is fully integrated with local materials and passive solar design.
Corrugated zinc roofing sheets form the roof. Two water tanks collect water for its reuse in the restrooms. Total costs of construction do not exceed US$ 8,000.
---
COST ESTIMATION >
7919 US$
(total)
1. Lean concrete > 155 US$

1.1 Dormitory A: 59 US$
1.2 Dormitory B: 52 US$
1.3 Bathroom: 44 US$
2. Reinforced concrete, rebars and formworks > 1465.5 US$
2.1 Dormitory A: 655 US$
2.2 Dormitory B: 598.5 US$
2.3 Bathroom: 212 US$
3. Rammed earth and pavements > 792.5 US$

3.1 Dormitory A: 373.2 US$
3.2 Dormitory B: 347.2 US$
3.3 Bathroom: 72.1 US$
4. CGI roofing > 2146 US$

4.1 Dormitory A: 930 US$
4.2 Dormitory B: 953 US$
4.3 Bathroom: 263 US$

5. Timber elements > 2637 US$

5.1 Dormitory A: 1361 US$
5.2 Dormitory B: 1170 US$
5.3 Bathroom: 106 US$
6. Doors and windows > 199 US$

6.1 Dormitory A: 79 US$
6.2 Dormitory B: 79 US$
6.3 Bathroom: 41 US$

7. Sanitary facilities (WCs, sinks, etc.) > 294 US$

7.1 Dormitory A: 0 US$
7.2 Dormitory B: 0 US$
7.3 Bathroom: 294 US$

8. Screws, bolts and steel plates > 230 US$

8.1 Dormitory A: 94 US$
8.2 Dormitory B: 87 US$
8.3 Bathroom: 49 US$