Post by scullye on May 27, 2016 8:03:41 GMT -6
ENTRY # 511815413
EXPNDORMITORY: An adaptable dormitory for its students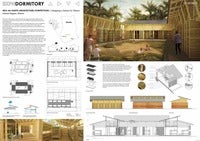 Design Team: Étienne Scully, architecture student (Canada)

DESIGN STATEMENT

The main idea was to create dormitories that would easily adapt to the changing needs of the school and to the different age groups sleeping in the habitations.
The typical dormitory type is made of multiple identical units put together (in phases) to form a courtyard. The school might then find it easy to gradually add units whenever necessary, depending on the growth of the school attenders.
There are no solid divisions inside a dormitory unit. Curtains might be used for visual divisions.
The space may either be all used for beds, or divided to manage different functions within the unit.
The two-levels structure maximizes the possibilities of space planning. When it is not class time, the dormitory courtyard becomes a vibrant place for games, social activities, creation and relaxation. The ease to manipulate the facade facing the courtyard (light rotating bamboo doors) insists the users to bring the activities outside and vice versa without much effort.
Each unit is made of a mix of earth and bamboo.
While a continual rammed earth wall encloses the dormitory unit on 3 sides, bamboo columns and beams placed following a simple yet efficient layout of axis that allows a maximum use of space. Both materials were chosen because of their cheap value, strength, and their abundance locally.
The thick rammed earth wall not only assures privacy, but also helps for temperature regulation through the effect of thermal mass. Woven bamboo walls enclose the second story and the facade facing the courtyard, helping fresh air and natural light circulating in the habitat along with the help of the shape of the split gable roof covered of corrugated zinc panels. Clerestory mosquito nets are placed to avoid bugs disturbance during nighttime.
BUDGET (USD)


Foundation wall and footing
– rubble stone, clay brick, cement, sand and gravel
890$

Flooring
– mixed cement and sand
250$
Walling
- rammed earth wall
450$
Structure

Bamboo – (chemically treated for construction), doors, flooring and woven walls
2500$

Wood
90$

Roofing
- Corrugated zinc panels
1 130$

Miscellaneous

Fabrics
200$

Laborers cost
– skilled and unskilled
2000$
Volunteers
0$
TOTAL (labor included) : 7 510$