Post by tallerdebovedas on Jun 2, 2016 15:55:47 GMT -6
509474424642456616001
CLASSROOM MODEL. STRUCTURAL AND TYPOLOGICAL SYSTEM ADAPTABLE TO OTHER AREAS OF THE SCHOOL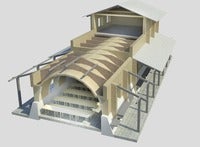 1.- DESCRIPTION

The Project places a module to be used as a classroom. The system is modular in design and it is therefore expandable and adaptative, so it can be used in a wide range of applications structural and dimensional variations.
The basic module solves the problem of span, context and load in the most effective way.
The design has adequate resources to carry out the assigned function as the constructive simplicity, the ease of repetition and grouping of the module.
In addition to, the ability to be erected in a safe way without auxiliary resources and low-skilled hand work, makes it suitable for many functions and situations.
2.- STRUCTURE
The structural solution is based on the geometry and mass of walls and exterior enclosures. Its design allows implementation with materials as cooked brick block , compressed earth block in blocks BTC.
The structure allows height growth without modifying the system and achieving an increase in width of the light by 40% with an increase of thickness of the walls of 20%.
Therefore the structure allows to have two plants in any module without changing the structure.

3.- THE CLIMATIC BEHAVIOUR (adaptative)

The model allows various configurations to adapt it to local conditions. The vault that is inside, increases the thermal mass in the upper part of the space and creates a ventilated air space below deck out of the folded sheet; according to the requirements of climograms.
Construction is based on walls with high thermal inertia and persistently shadowed. Toghether to the need of ventilation collaborates a suitable control of weather conditions.
4.- BILL OF QUANTITIES (BOQ)

SCHOOL CLASSROOM BUILDING. BILL OF QUANTITIES (BOQ) $


EXCAVATION ,EARTHWORK AND FOUNDATIONS___________________________________________2.401,44

BLOCK WORK_______________________________________________________________________1.765,77
_
TIMBREL VAULT ______________________________________________________________________706,31

METAL,WOOD & GLASS WORKS ________________________________________________________1.130,09

INSTALLATIONS ______________________________________________________________________423,78

FLOOR, WALL AND CEILING FINISHING _________________________________________________1.059,46

PAINTING AND DECORATION ___________________________________________________________353,15



TOTAL __________ 7.840,00