Post by RETHINK IMPLUVIUM 2.0 on May 31, 2016 13:31:25 GMT -6
ENTRY #512967499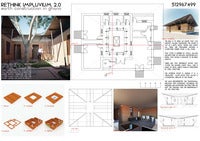 RETHINK IMPLUVIUM 2.0
Design Team: B. Bougouma, C. Stanislas, C. Odette and T. Stephane, architects (BURKINA FASO)
BUDGET /
CARPENTERY
1200 USD
WELDING
1300 USD
STRUCTURE + CONCRETE
2200 USD
WALLS
2900 USD
In rural areas of Africa, there is a lack of teachers due to a lack of vocation, nevertheless they work hard every day, with good will and dedication to achieve the desired results. Therefore, we find in their allday living that they are poorly housed and have no privacy.
The aim of the contest is to build school units. We are making housing for teachers and chose to build in rammed earth because it is a simple and fast technique and helps regulate the humidity of the construction and offers economic and environmental benefits. Thick walls of a 40cm are built to support the loads and allow earth to use its natural properties, while partition walls are 20 cm thick. Beyond using earth as a constructive material, we adopt the impluvium as an architectural system. The impluvium is a system that collects and conveys rainwater to a storage location by roof. A platform stands in the courtyard under which we will have a mill pond with a filter that will allow harvesting rainwater for reuse.
The inward of the house is a courtyard with a tree that shadowed the house. All around the building, there is a concrete belt that acts as a window-support and base for the external roof structure. The roof is an umbrella over the building; It is independent from the construction and is naturally ventilated:
- A sheet metal roof for the upper part and (exterior)
- a cloth material roof for the second one (interior)
The upper roof has four slopes running outward for about 2 meters to cast shadow and prevent running water on the facades; and inward for 1 meter to cover the courtyard terrace.
There is a cross ventilation that permits continuous aeration because of moisture. The outside windows have a sun breaks to prevent heat to enter inside the house and in the courtyard we have blinds for hot air evacuation.