Post by ojtli on May 31, 2016 19:02:21 GMT -6
ENTRY # 512541695
Inclusive earth :urine diverting composting toilets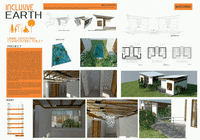 TEAM:
OJTLI


Jose Antonio Sobrecueva Industrial engineer jasobrecueva@gmail.com
Ma. Fernanda Sosa Architect mfgsosa@hotmail.es
Adress: Av. Lomas verdes km 1.8 "rancho la arboleda"
Banderilla, Veracruz, México
The project proposes inclusion with the environment and with humans. The materials used are local, natural, and abundant. The design offers universal spaces so people with different capacities (motor, visual or hearing) can easily use the facilities. The eco-techniques used for water treatment and waste transformation help users get involved in the process, which is a cycle between humans and edible trees. We want to emphasize the aesthetics of earth and its malleable properties so that it is dignified and accepted as an adequate material for construction. In the same way, try to change the concept of latrine, which is frequently associated with an odorous, ugly, dark, dirty and unsafe place. The total area used is 130 m². Each urine - diverting composting toilet module is 28.40 m², there is one for women and one for men. The capacity for the restrooms is for 300 students, with the intention to replicate the design as the school grows.
MATERIALS: Earth, sand, hydrated lime, bedrock, wood and cement for cistern and slab.
The main building technique to use is rough rammed earth covered by a layer of lime and sand plaster applied with trowel for smoothness. The biofilter and dividing walls for the poop chambers will be built with CEB brick plastered with a mixture of lime and sand with different granulometry and trowel pressure for waterproofness.
Cocciopesto is an ancient roman technique used in the construction of pavements and aqueduct. It consists of lime, sand, different pebble sizes and broken bricks or pottery. The mixture is poured on layers and then beaten down with a rammer.
Budget
Building (foundation, walls, concrete slab, ramps, chambers) $ 1,740.00
Woodwork (doors, lattices, frames) $ 89.00
Roof (truss, battons, corrugated zinc) $ 2,165.00
Ecotechnie (biofilter, poopster, cistern) $ 476.00
Installations (electric, hidraulic ) $1,230.00
Furnishing (urinal, WC seat, flush latrine, basin) $1,120.00
5% Project Contingency $ 341.00
TOTAL: $ 7,161.00