Post by kater on May 30, 2016 6:43:30 GMT -6
ENTRY #514749839
Abetenim Secondary School: Library
Design Tean: Kate Ryle (Australia)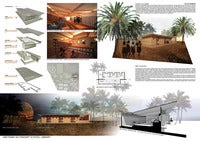 DESIGN RESPONSE
This proposal aims to fuse traditional building methods with a modern design vocabulary thus creating a new architectural language. The challenge of the limited resources posed as an opportunity. Mud or earth as a building material often has the stigma attached of being a poor man's material. The truth of the matter is, earth is actually an exceptional building material that can be used in a very refined way. Rammed earth is non-combustible with high thermal properties to maintain a consistently comfortable internal temperature. The mud bricks are non-toxic and acoustically sound. The construction methods of these locally sourced materials utilise local knowledge. The design is intended to contribute to the body of works aiming to promote the cultural acceptance of rammed earth and mud bricks as an architectural material.
COST BREAKDOWN ($USD)
1. TRENCH FILLED FOUNDATIONS $990
800mm x 400mm Dug out trenches filled with gravel, rubble stone, cement and RC.
2. FLOORING $330
Mixed cement and sand flooring layer laid on infill RC slab. Option: Fired clay tiles flooring.
3. RAMMED EARTH WALLING $940
Locally sourced earth, sand and cement mixture. Coconut and grass added to mixture. Natural sealant derived from cassava starch.
4. MUD BRICK WALLING $310
Locally sourced laterite mud bricks with jali window openings.
5. WINDOWS AND DOORS $180
Locally sourced iron hardwood timber - feature entrance, horizontal screened high windows and integrated windows frames in rammed earth.
6. ROOF TRUSSES $850
Locally sourced iron hardwood timber from neighbouring reserve used for inverted roof trusses.
6. ROOF $1100
Corrugated zinc sheet roofing. Box gutter connected to tank to collect and collect rain water.
7. LABOUR
Locally skilled tradespeople $1600
Locally unskilled tradespeople $1400
Volunteers
TOTAL CONSTRUCTION COSTS $7700