Post by clement on May 30, 2016 2:50:14 GMT -6
ENTRY # 498360619
MICRO-POROSITY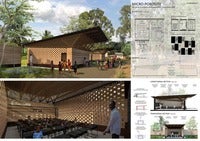 DESIGN STATEMENTS :
The project tries to find a new way to use local materials through a contemporary architectural design. Whether in the form or in the usage of the earth, our aim is to create a new perception of this material.
The unit is basically divided into two volumes. The first one, on the bottom, is a solid block made out of earth and constitutes the living space. On top of it, the other one is in wood and procures a climate protection. These two volumes work together to provide a spatial quality and a maximum comfort to the children.
The northern and southern walls are the bearing walls. Made out of rammed earth, they are opaque in order to protect from the Harmattan wind and the solar radiation. The western and eastern walls are widely perforated using Compressed Earth Blocks (CEB) to provide natural light and ventilation.
The wooden upper volume acts as a thermal buffer. When the corrugated iron roofing heats up under solar radiation, the stored heat spreads downward. To prevent this heat to reach the classroom, the wooden volume is widely opened on all its sides. The hot air stocked on the ceiling flows outside by natural ventilation using the dominant South-West refreshing wind. The two volumes - the room and the roof - are separated by a wood mesh.
From a constructive point of view, the classroom unit is composed of:
- a concrete slab acting as soil and foundation
- a brick basement (50 cm) to protect the mud walls against humidity
- the earth walls: rammed earth on North & South, perforated CEB on East & West
- a wooden frame supporting the roof
The classroom units are separated by small gardens which aim to be natural breathings in the school, bringing freshness and natural comfort to the children and improving the cooling system.
COST ESTIMATION :
- Foundations : 2120
- Walls : 1770
- Roofing : 2494
- Fittings : 150
- Landscaping : 1020

- Miscellaneous : 400